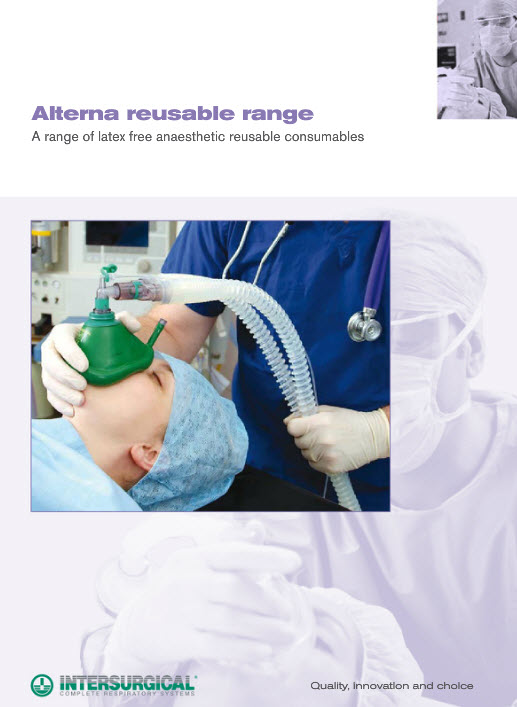 Designed for use in anaesthesia and intensive care, the Alterna™ reprocessable product range offers a latex-free, reusable solution running from patient to equipment.

Standard fittings and connectors allow for easy interchange to suit the application as required.

Anaesthetic face masks
A wide range of
anatomical anaesthetic face masks
, with or without hook rings, that provide a solution for those requiring reliable, high-performing synthetic products in the area of anaesthetic consumables. Masks are manufactured from polychloroprene, a synthetic material with similar attributes to natural rubber (NRL) but without the associated danger of Type 1 (protein) allergies.

The mask cushion is sealed using a leak-tight plug, the cushion pressure can be adjusted using a catheter tip syringe and the bung can easily be removed for sterilisation.

ClearFlex™ face masks are manufactured from silicone and incorporate a traditional anatomical shape with good patient visibility.

All anaesthesia face masks are autoclavable up to a maximum of 137°C and have a 22mm female port.


Breathing systems and tubes
We offer two types of material for our tubing.
Clear silicone
tubing is available in either 22mm or 15mm options and has a unique feature: a graduated spiral design forms an integral elastometric end connector, which avoids the weakness often inherent in standard silicone tubing at the weld point between the tubing and the connector.
Clear Hytrel
™ tubing is available in a 22mm option and provides a lightweight alternative to silicone. It can be reprocessed in an automatic washer disinfector as well as being steam sterilised.


Reservoir bags
Similar to the face mask range, our range of
reservoir bags
are high performing, synthetic products manufactured from neoprene and are autoclavable up to a maximum of 137°C.


Connectors, valves and adapters
Our reusable range of polysulfone
connectors
is designed for use with both silicone and Hytrel™ tubing options. The transparent material allows excellent visibility through the connector and they have good dimensional stability over a broad temperature range, makeing them ideal for reprocessing by steam sterilisation.

The Alterna reprocessable range provides our customers with a further choice.
View the complete range in our dedicated
online catalogue
.