A clear vision for the future
ClearLite™ is a range of single use anaesthetic face masks which includes seven sizes to meet the clinical needs of all patient types and sizes. The range is available in sizes 0 neonatal to size 6 large adult.
Due to the enhanced anatomical design, the ClearLite™ mask offers superior seal performance with minimum pressure, reducing the risk of unnecessary discomfort or potential trauma. The superior seal will also assist the clinician in providing optimum manual ventilation of the patient in both the anaesthetic and emergency situation.
ClearLite™ is non-PVC and phthalate free which significantly minimises the impact upon the environment. The range is available without a hook ring to reduce waste.
Features and benefits
Lightweight:

Provides enhanced grip and comfort in use for the clinician.

Anatomical shape:

Provides a precise fit for different face shapes and sizes. Minimum pressure is required to achieve an effective seal reducing the risk of inadvertent trauma and nerve damage.

Crystal clear body:

Provides excellent visibility for confirmation that the patient is well perfused.

Reduced mask volume:

Reduces potential rebreathing and risks associated with elevated levels of end tidal CO₂.

Safe and secure connection:

This is achieved between the mask and the breathing system in use. The ISO 22mm tapered connection complies with ISO 5356.

Flexible non-inflatable cuff

: Provides a comfortable and effective airtight seal.

Colour-coding:

The comfortable, flexible seal is colour coded to allow quick and easy identification of the correct sized mask.

Reduce waste

: Available without a hook ring

Lower environmental impact:

Non-PVC and phthalate free.
Comparing the environmental impact of products
The We have used SimaPro 8 Life Cycle Assessment (LCA) software to assess the environmental aspects of our products following the ISO standards 14040:2006 and 14044:2006. By analysing the materials, packaging, energy used in manufacturing and disposal methods, this software enables us to quantify the environmental impact of our products, providing a number in units of Eco millipoints, which allows for all impact categories to be provided in a single value, including carbon emissions.
The example provided below illustrates the reduction of environmental impact between a traditional PVC anaesthetic face mask and the ClearLite™ anaesthetic face mask.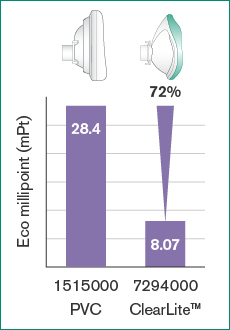 Products with lower Eco millipoints are more environmentally friendly, the ClearLite™ shows a 72% reduction in environmental impact.1
| | | |
| --- | --- | --- |
| Code | Description | Eco millipoint score |
| 7294000 | ClearLite™ anaesthetic face mask, size 4, adult, green seal, 22F - non PVC | 8.07 |
| 1515000 | Economy anaesthetic face mask, size 4, medium adult, 22F - PVC | 28.4 |
Reference 1: Life Cycle Assessment (LCA) Comparison of non-PVC and PVC anaesthetic masks (issue 3)