A range of reprocessable fibreoptic laryngoscope handles. All handles are ISO 7376-3 compliant and offer a choice of two, high-intensity LED light sources, providing superior illumination to incandescant bulbs and a reduced risk of mucosal burns. Produced from high quality nickle plated brass, the entire range has been designed to be reprocessed by autoclave up to 400 times
(1).
The Classic LED handle offers a high-quality, cost-effective option suitable for routine use, whilst the Hyper LED range offers superior light intensity in three different profiles - standard, slim and short.
Standard handles:
most popular choice for routine cases.
Short handles:
For cases where the chest and/or breast come into contact with handle during use, or when cricoid pressure is being applied
(2).
Slim handle:
Product of choice for paediatrics.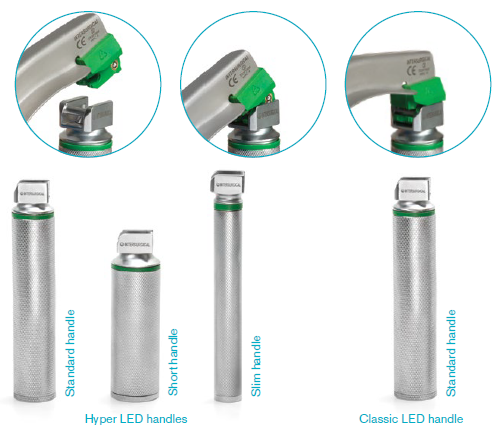 References:
1. In house testing
2. Dorsch J.A. & Dorsch, S.E. 2012. Understanding Anesthesia Equipment. 5th edition. Lippincott Williams & Wilkins. Philadelphia.